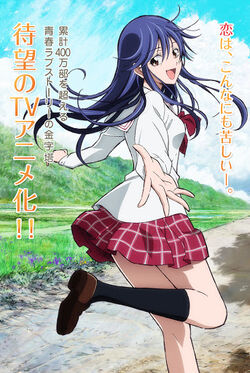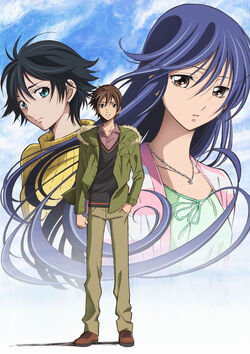 The anime adaptation of the manga series Kimi no Iru Machi first occurred in two OVAs, which are directed by Shigeyasu Yamauchi. The TV series adaptation was officially announced with GONZO responsible for the production and Shigeyasu taking over as the director as the OVA. Broadcast of this series began on July 13th, 2013 for 12 episodes.
In regards to the plot of the anime, the OVAs are thought to be an introduction to the TV series as it covers the experiences of Haruto Kirishima with Yuzuki Eba during the post-Hiroshima arc. As a result, the anime starts off from approximately Chapter 79 of the manga in Volume 9 detailing Haruto's life in Tokyo.
Plot
Yuzuki Eba, a girl from Tokyo moves to the countryside to attend high school. She lives together with a guy named Haruto Kirishima whose father is an apprentice of Eba's father. Haruto never agrees to let Yuzuki stay at his house and always rejects her when she tries to pursue a relationship with him. When another girl, Nanami Kanzaki, comes whom Haruto might be in love with, what will happen in this story?
Staff
Cast
Drama CD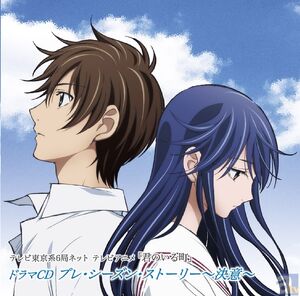 A Town Where You Live Drama CD: Pre-Season Story ~Decision~ (君のいる町 ドラマCD プレ・シーズン・ストーリー~決意~, ) is an audio drama CD released by UNIVERSAL MUSIC on June 26, 2013. The contents serves as a prologue episode before the events of the anime series.
Tracklist
Prologue (プロローグ)
Rin's Tip Off (懍のタレコミ), based on Chapter 73
The Left Over Letter (置き手紙), based on Chapter 75
Going After Her (追っかけて), based on Chapter 76
Something Forgotten (忘れ物), based on Chapter 78
Epilogue (エピローグ)
Episodes
Music
OAD
TV Anime
Trailers
Gallery
Trivia
External Links